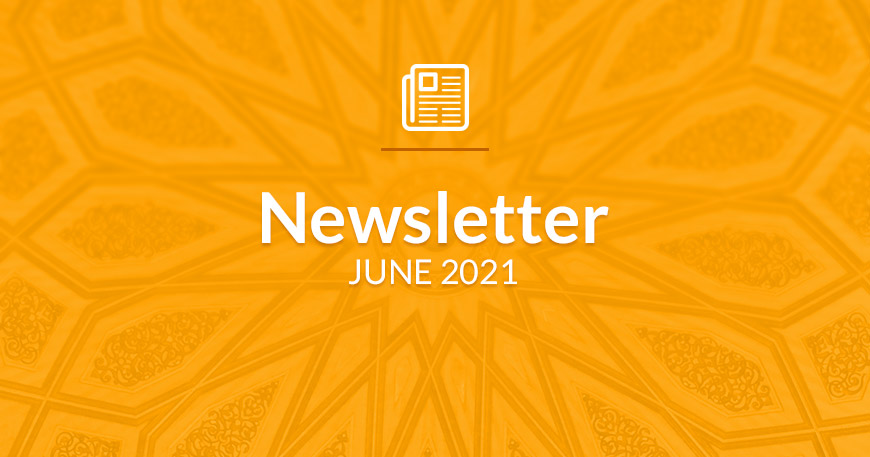 Newsletter June 2021
Page 1 of 10
It is time to read your ABLCC newsletter and stay informed about the Arab World!
Focus on Jordan

This year, on 12 April 2021, the Hashemite Kingdom of Jordan celebrated its centenary, a major milestone. The Arab-Belgian-Luxembourg Chamber of Commerce extend their sincere congratulations on this occasion, may the Hashemite Kingdom of Jordan celebrate many more.
Table of content
Interview: HE Dr. Saja AL-MAJALI | Ambassador of the Hashemite Kingdom of Jordan in Brussels
Modern Jordan was founded by King Abdullah I after World War I. It was ruled by his grandson, the late King Hussein, for 46 years until his death in 1999, when his son, King Abdullah II, assumed the throne. Jordan has grown into a modern nation that has enjoyed a remarkable measure of peace, stability and economic growth in recent decades.
Images of the ancient Nabataean city of Petra, carved from the rock over a thousand years ago, have long been most people's first impression of Jordan. But while Petra is indeed one of the most stunning attractions in the Middle East, Jordan offers so much more!
Since the dawn of civilization, Jordan's geography has given it an important role as a crossroads of trade linking the silk and spice trade routes of China and India to Mediterranean countries such as Egypt, Rome, Greece and Syria. Today's Jordan continues to serve as a strategic nexus; connecting Asia, Africa, and Europe.
The EU and Jordan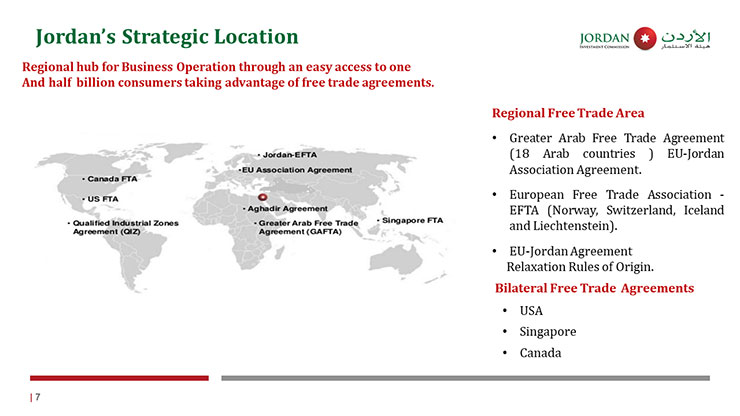 The EU is Jordan's largest trading partner, accounting for 17,4% of its trade in 2017. In 2017, Jordan was the EU's 61th trading partner; this highlights the potential to grow Jordanian exports to the EU that reached €300 million in 2018.
Thanks to the EU-Jordan Association Agreement, which entered into force on 1 May 2002 , Jordan enjoys an almost completely liberalised access to the EU market. The EU and Jordan also signed an agreement for greater liberalisation of their trade in agricultural and processed agricultural products, which entered into force in 2006.The EU and Jordan also agreed upon a protocol establishing a bilateral Dispute Settlement Mechanism, which entered into force in 2011.
The Council of the European Union adopted negotiating directives for a Deep and Comprehensive Free Trade Area (DCFTA) with Jordan in 2011.
In July 2016, the EU and Jordan agreed to simplify the rules of origin that Jordanian exporters use in their trade with the EU. This measure allows producers in Jordan to use an alternative set of rules of origin for exports to the EU, provided that a number of conditions are met. The initiative was amended in December 2018 to accelerate its uptake and extend its duration. The scheme applies to 52 different product categories including textiles and garments, engineering and electrical products, chemical products, plastic products, and furniture and wood products. This initiative is valid until 21 December 2030; it has already opened up new opportunities for trade with the EU, and its use by Jordanian exporters has increased year-on-year.
Since 2011, the EU has been assisting Jordan with the implementation of its energy reform strategy, with a focus on green energy that will assist Jordan to meet the Sustainable Development Goals. With €90 million ongoing bilateral support to the Renewable Energy and Energy Efficiency Programme in Jordan (REEE II), the EU works hand-in-hand with the Government of Jordan for the development and implementation of effective policies that will help Jordan reach its renewable energy and energy efficiency (REEE) targets for 2020 and beyond.
Read more on the subject:
Why Jordan?
Interview: HE Dr. Saja AL-MAJALI | Ambassador of the Hashemite Kingdom of Jordan in Brussels
A regional hub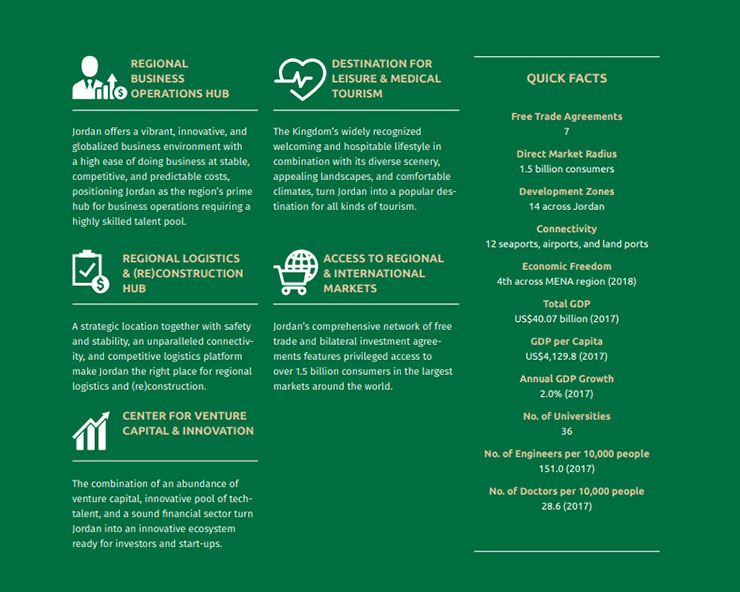 Jordan is one of the few countries in the Middle East that does not rely as much on its natural resources due to scarcity of hydrocarbon and water resources. On the other hand, its strategic location makes it an easily accessible hub for businesses and a perfect gateway to regional and world trade.
In Jordan, investors will find the optimal regional hub for their business with a potential of serving over a billion customers thanks to the numerous free trade agreements that Jordan maintains with trade partners across the globe.
In addition, Jordan's financial market is one of the most stable in the Middle East and North Africa (MENA) region.
This strategic location and logistics powerhouse have been recognized internationally as Jordan is ranked as one of the most globalized countries in the entire MENA region. This in turn facilitates direct access to a large Arab speaking consumer market of about 400 million people, including some of the most populous countries, including Egypt, Iraq, and Syria.
Jordan 2025: A national vision and strategy
Jordan's strategic location has been reinforced with sound economic policies and a vision setting some inspiring targets in key sectors designed to strengthen the economy and ensure that Jordan will become a key market in the MENA region.
Jordan 2025 is based on the identification of a set of goals that the Jordan government aspires to achieve:
Economic growth, fiscal stability, reduction of financial waste and public debt to safe levels.
Foreign investment by enhancing and increasing business and investment competitiveness.
Development of economic sectors through market creativity and honing the tools and means of high-value-added export-oriented sectors.
Encouragement of small and medium-sized businesses.
Enhancement of the policies governing the labor market.
An increment of women's participation in the labor market.
Giving necessary attention to people with special needs.

Skilled human capital
Jordan's key strength lies in its highly qualified, flexible, and cost-competitive workforce - one of the most essential elements needed for any global firm to establish a presence for its regional operations.
A country with limited natural resources, Jordan recognized the importance of investing in its human resources and becoming more talentdriven.
Jordan's young and dynamic labor force is one of the most skilled, competitive, and productive in the region. The Kingdom's advantages are driven by relatively low redundancy costs, cooperative relations between employees and employers, flexibility in wage determination, and efficient hiring and firing practices, making it easy to attract and retain suitable staff.
Infrastructure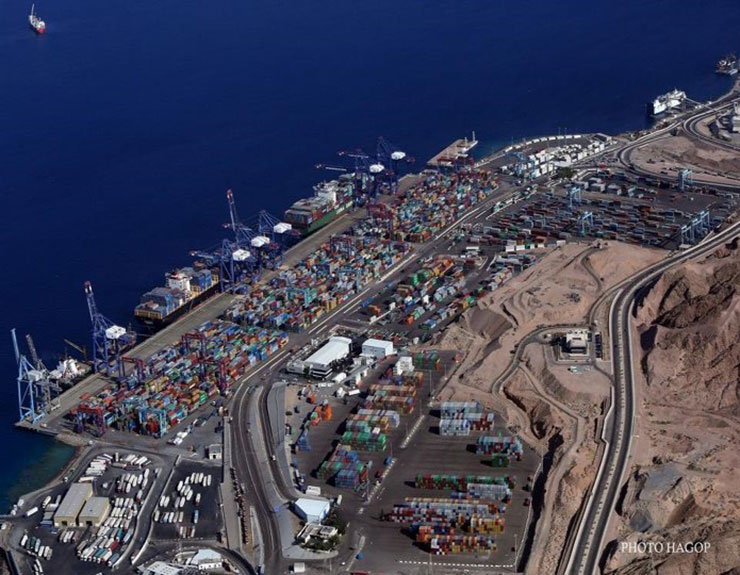 Jordan's strategic geographical location is complemented by its unparalleled network of air, sea, and land connectivity, and its state-of-the-art infrastructure.
Jordan's main airport is Queen Alia International Airport near Amman, handling most passengers (over 7.9 million in 20178 ) into the Kingdom with routes to over 70 international destinations. Two other airports serve downtown Amman and southern Aqaba.
The Kingdom of Jordan's highway network covers more than 2,700 km, connecting all corners of the Kingdom and providing rapid access to every corner of the country.
Jordan offers a competitive multimodal array of logistic options for distributing products and goods throughout the country, the wider MENA region, and the world. These high-quality and complete logistical solutions provide very reasonable total supply chain costs.
Despite its limited coastline on the Gulf of Aqaba, the quality of Jordan's major port in Aqaba is similar to the quality of port infrastructure in Cyprus, Egypt, Saudi Arabia, and Turkey, even though these nations have a much longer tradition with ports development, given their marine orientation.
The Government of Jordan is committed to continuously investing in its logistics platform. The Government's initiative to develop and implement the Jordanian National Railway Project (a 900 km long proposed north-south and east-west railway network) will connect various production centers and cities within the Kingdom, and will complement Jordan's accessibility and logistics solution in the nearby future, transforming the Kingdom into a true logistics powerhouse.
Value added sectors
Interview: HE Dr. Saja AL-MAJALI | Ambassador of the Hashemite Kingdom of Jordan in Brussels
ICT
Jordan's information and communications technology (ICT) provides key elements required by international companies to set a foot in Jordan as well as to serve bigger markets in the region. The Country is a regional hub for tech start-ups that serve the wider MENA region. The ICT-focused educational system, the presence of venture capital, a business-friendly environment, and low start-up costs are only a few aspects of Jordan's ICT sector that contribute to the ease of doing business in Jordan.
Agriculture
Jordan's agriculture sector is one of the Kingdom's most competitive sectors that is experiencing strong growth and has doubled its contribution to Jordan's national GDP from 2.0% to 5.5 % in the past five years. The significant growth is primarily driven by domestic demand and demand in the Middle East and North Africa (MENA) region, to which Jordan enjoys direct market access. With its modern production technology, multiplicity and diversity of products with high technical specifications, and quality standards offered in local and international markets, a variety of lucrative investment opportunities are present in Jordan's Agriculture sector.
Energy & Renewable Energy
Domestic demand for energy in Jordan is growing. This growth in the energy sector is a result of industrialization, population growth, and a growing economy. Jordan is looking at medium and long-term initiatives across a wide range of energy sub-sectors to diversify its energy sources. These include importing Liquefied Natural Gas (LNG), exploring for oil and gas, implementing an energy efficiency program, importing electricity from neighboring countries and diversifying the types of fuel it uses for power generation. In combination with its favorable climatological conditions, technically skilled labor force, strong grid connectivity, and high insulation and irradiation levels, Jordan is emerging as an ideal location for investment in renewable energy and clean technology. Investments in Jordan's energy sector will offer a starting point for international companies with the intention of regional or global expansion.
Healthcare
The Jordanian healthcare sector is known for its high-quality services, both regionally and internationally. Jordan's world-class internationally qualified workforce, state-of-the-art medical machinery and equipment, and high-quality medical facilities are all contributing factors making Jordan's healthcare sector one of the fastest growing sectors in the country. There is a multitude of promising investment opportunities within Jordan's growing healthcare sector.
Moreover, Jordan is considered one of the Middle East's most preeminent medical tourism destinations and a regional leader in pharmaceuticals production, with further growth likely to materialize in the upcoming years as a result of factors such as increased medical tourism from Saudi Arabia and other Gulf Cooperation Council (GCC) countries.
Industry
The industrial sector in Jordan is considered the most economically significant sector in terms of value-added to the national economy, availability of labor, linkages to other sectors, and the level of technical competence. The Jordanian industrial sector consists mainly of "manufacturing industries" sector, "extractive industries" sector and "electricity and water" sector. These activities are linked backward and forward with sectors such as transportation, insurance, agriculture and trade.
The industrial sector is a high contributor to Jordan's GDP as it constitutes about 25% in 2017, employing more than 240,000 people, most of them Jordanians, in some 18,000 industrial facilities across the Kingdom.
The importance of the industrial sector can be traced to Jordan's strong competitiveness for industrial investors. Jordan's location within the Middle East and North Africa (MENA) region, supported by the variety of free trade agreements (FTAs), offering access to 1.5 billion customers across more than 160 countries, enables the country to be a strategic trade route to many of its neighbouring countries and regions.
Tourism
Tourism is a key pillar of Jordan's economy therefore there has been tremendous efforts to better promote the kingdom and further develop niche tourism segments. Jordan's tourism proposition and experiences also hold potential to attract tourists in other emerging and promising niches. Nine of the most prominent investment opportunities being:
Leisure Tourism
Aqaba's High Lake Resort
Medical & Wellness Tourism
ECO and Nature Tourism
Sports City Camps
Faith Based Tourism
Adventure Tourism
Educational Tourism
Meetings, Incentives, Conferences, and Events Tourism (MICE)
Transportation & logistics
Jordan's transportation and logistics sector plays a key role in Jordan's economy, contributing to over 8.2% of GDP. It is growing at an annual rate of 6% and employs nearly 7.6% of the Jordanian human capital market, resulting in around 126,000 jobs. A total of 325 licensed transportation and logistics companies are currently operating in Jordan. Moreover, the estimated annual growth in demand for transportation and logistics ranges from 5% to 6% until 2030; this is partially due to the increase in population which makes the sector a promising prospect for substantial investment opportunities.
The Transportation and Logistics sector can be classified into five subsectors, for which considerable investment opportunities exist:
Ma'an Dry Port
The Jordanian National Railway Project
King Hussein International Airport
Marka Airport
Amman Civil Airport
Starting a business in Jordan: procedure
Established under the direction of His Majesty King Abdullah II, the Jordan Investment Commission (JIC) is at the forefront of serving current and prospect investors in Jordan to ensure a high ease of doing business and strong investor protection regulation.
Generally speaking, the following steps can should be applied when starting a company in Jordan:


What type of business to register?
The registration process will depend on what type of legal business structure you choose. Below is a list of the five main legal business structures for small business that you can register in Jordan.