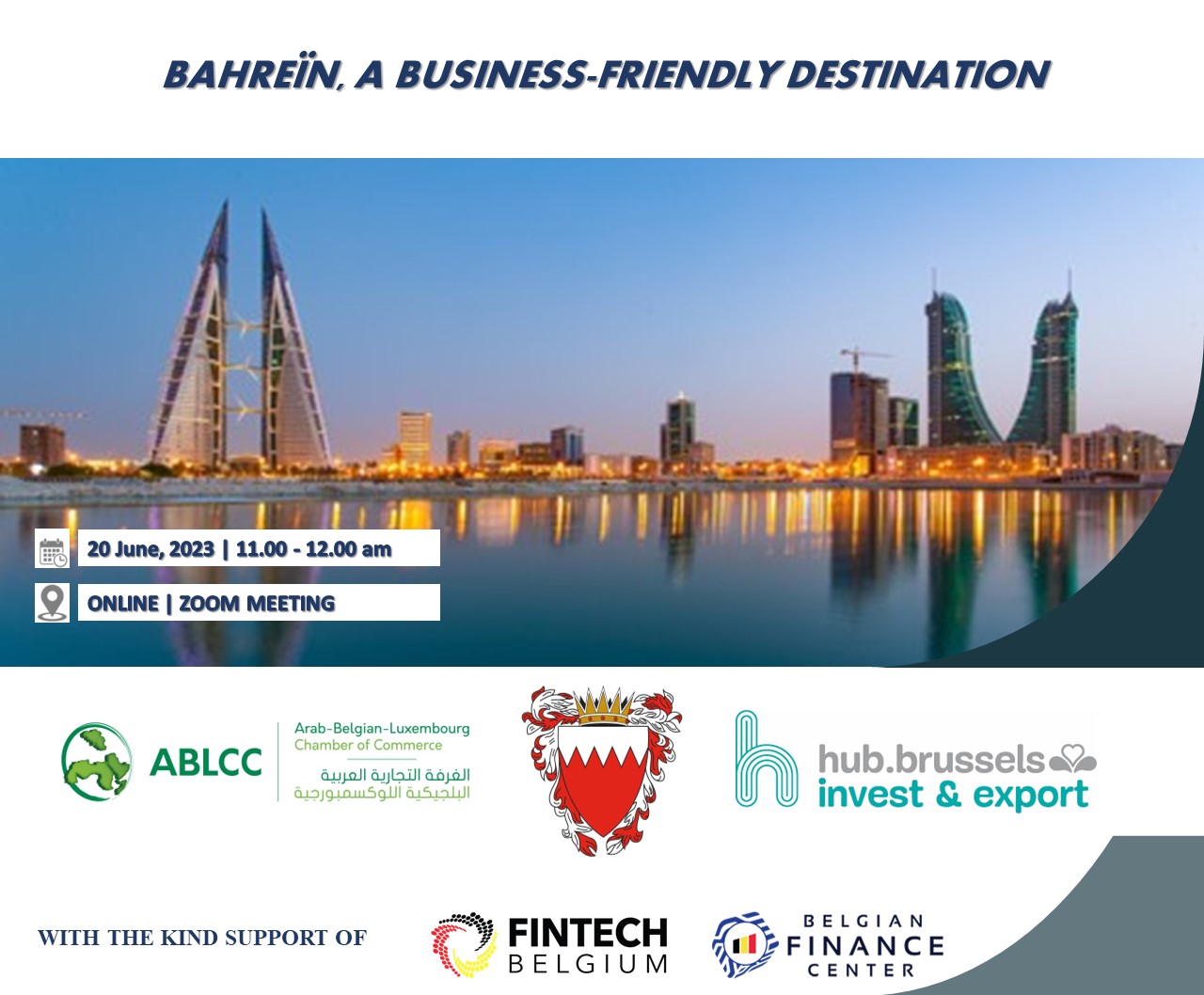 Bahrain, a business-friendly destination
From 23 to 27 October 2023, Hub.Brussels, in collaboration with Fintech Belgium and Belgian Finance Center, will lead an Economic Mission to Bahrain, which is fully supported by the Arab-Belgian-Luxembourg Chamber of Commerce (ABLCC).
In this framework, the Arab-Belgian-Luxembourg Chamber of Commerce organized, in close collaboration with the Embassy of Bahrain in Brussels, and hub.Brussels, a webinar entitled "Bahrain a Business-friendly Destination", for which more than 60 representatives from Belgian chambers of commerce, trade agencies, business sector, companies, in addition to government institutions registered.
This online gathering was set up with the idea to provide a platform for businesses to expand their knowledge on what the Bahraini market has on offer, help them connect with key economic actors, and leverage the right opportunity for their business!
Thanks to their comprehensive presentations, H.E. Abdulla AL DOSERI, Ambassador of Bahrain in Brussels, and Mr. Aurelio CASTILLA, Sr. Executive, International Offices at Bahrain Economic Development Board, shed light on Bahrain's unique investment opportunities with a focus on Fintech and finance.
H.E. Abdulla AL DOSERI highlighted Bahrain's financial services landscape with no less than 365 financial institutions! He then pointed out the ever-growing interest on fintech in Bahrain. Indeed, the small island - with a population of 1.5 million inhabitants - counts the highest number of fintech companies in the Middle East and is expected to double in the coming year.
Mr. Qaisar HIJAZIN, Secretary General of the ABLCC, indicated that, apart from fintech and finance, a large number of potentialities exist between our two countries.
Mr. Ghislain BREYDEL, Area Manager MENA - Hub.Brussels, and Laurence HEYBLOOM, Belgian Economic Attaché in Bahrain, provided detailed information on the Economic Mission to KSA and Bahrain in October 2023, emphasizing the valuable opportunity it represents for the participants to help them set up an effective strategy to penetrate the market.
To crown this informative session, Mr. Philippe THEUS, Executive Director - Chief Risk Officer at Byblos Bank Europe (BBE), who lived and worked for ten years in Bahrain, shared his experience and provided insight into how making business successfully in Bahrain.
To conclude the webinar, H.E. Marc TRENTESEAU, pointed out in his address (which was read to the participants by Ms. Sonia DEVERGNIES, Project Manager at the ABLCC) that the further integration of the great Arabian Peninsula as well as the reconstruction of Iraq "could trigger a renewed economic dynamism in the region that not only would largely benefit Bahrain but also his trade and economic partners. This without mentioning the Energy transition where Bahrain, more than other Gulf nations, could play the card of the renewables".
Watch the recording of the webinar on Bahrain