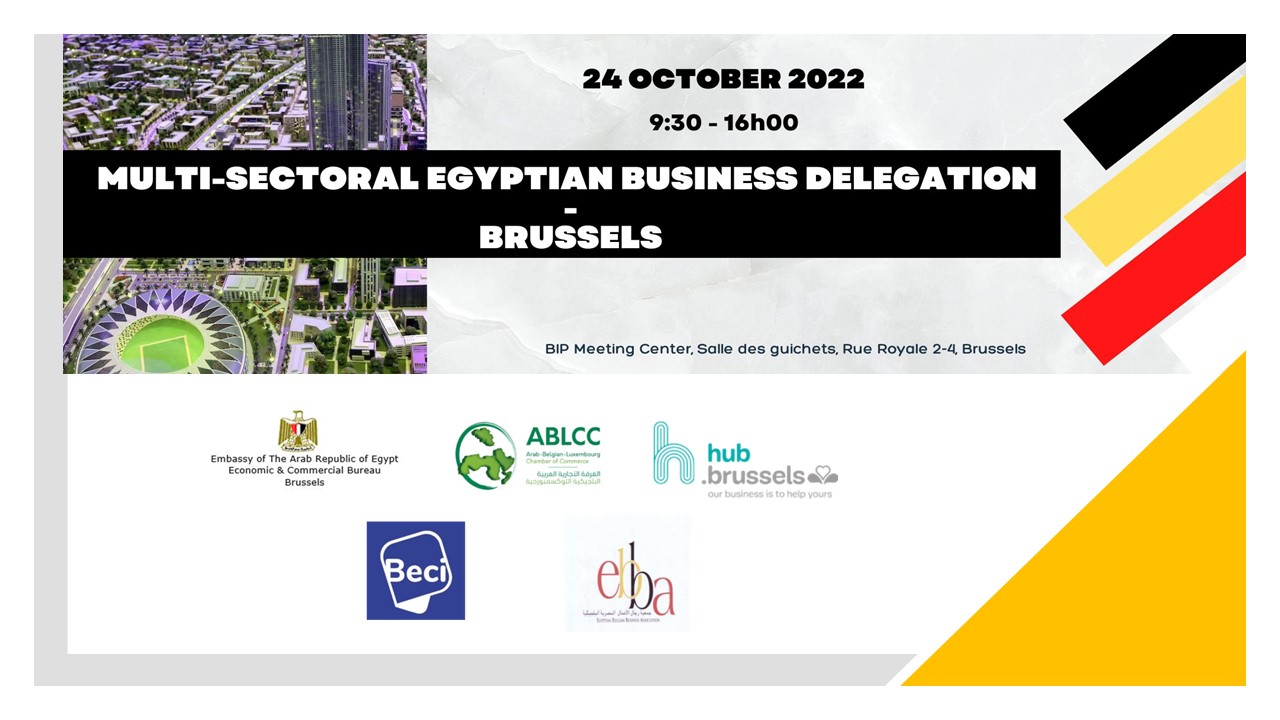 MULTISECTORAL EGYPTIAN BUSINESS DELAGATION
On 24 October 2022, the Arab-Belgian-Luxembourg Chamber of Commerce (ABLCC) had the pleasure of welcoming the Egyptian Belgian Business Association (EBBA) headed by Mr.Rafik ATTIA, Chairman of EBBA. On this occasion the ABLCC, in collaboration with the Embassy of Egypt in Brussels, Hub.brussels, and BECI (Brussels Enterprises Commerce & Industry) organized an "Egypt and Belgium Multisectoral Business Forum" with keynote speakers H.E. Dr. Badr ABDELATTY, Ambassador of Egypt to Belgium, Luxembourg & the E.U, and H.E. Mr. Rachid MADRANE, President of the Parliament of the Brussels-Capital Region. The forum was then followed by a networking Lunch and B2B meetings.
In his welcome remark, Mr. Secretary General, Qaisar HIJAZIN, shed the light on the fact that this is the 10th visit of the EBBA Delegation to Brussels and underlined the important development of the Egyptian Economy in all sectors.
In their speeches, both HE Badr ABDELLATY and Dr. Rasha GALAL, Minister Plenipotentiary Head of the Economic and Commercial bureau of the Embassy of Egypt in Brussels, pointed out a significant boom in trade exchanges between Egypt and Belgium during the first six months of this year.
HE Badr ABDELLATY highlighted the importance of the Economic reform undertaken in Egypt in order to diversify its economy, which is one of the major strategic objective of the Egyptian economic policy.
Mr. Rachid MADRANE, recalled the long history of friendship between Egypt and Belgium which can be traced back as early as Belgium's independence. Nowadays many Belgian companies are active in Egypt in a wide range of sectors - such as Transport, Logistics, Energy, Construction, etc. - and are involved in big construction sites, the Grand Egyptian Museum, for instance.
The participants then had the opportunity to learn more on Investment Climate & Business Opportunities thanks to a comprehensive presentation of the General Authority for Investment and Free Zones (GAFI).
Mr. Ghislain BREYDEL, area Manager MENA at Hub.Brussels, highlighted the success of the Belgian Multisectoral economic Mission to Egypt the week before and the numerous opportunities offered by the Economic development in Egypt to Belgian's Companies.
Mr. Philippe DESSOY, General Manager – BESIX, and Mr. Amedeo PEYRON, Area Director Middle East – DEME, shared with us their successful experience in Egypt.
We hope to continue this excellent cooperation in the coming years and we are looking forward to welcoming the EBBA delegation again next year!
Should you have any comment and/or suggestion about this annual event, do not hesitate to send us an email to
This email address is being protected from spambots. You need JavaScript enabled to view it.