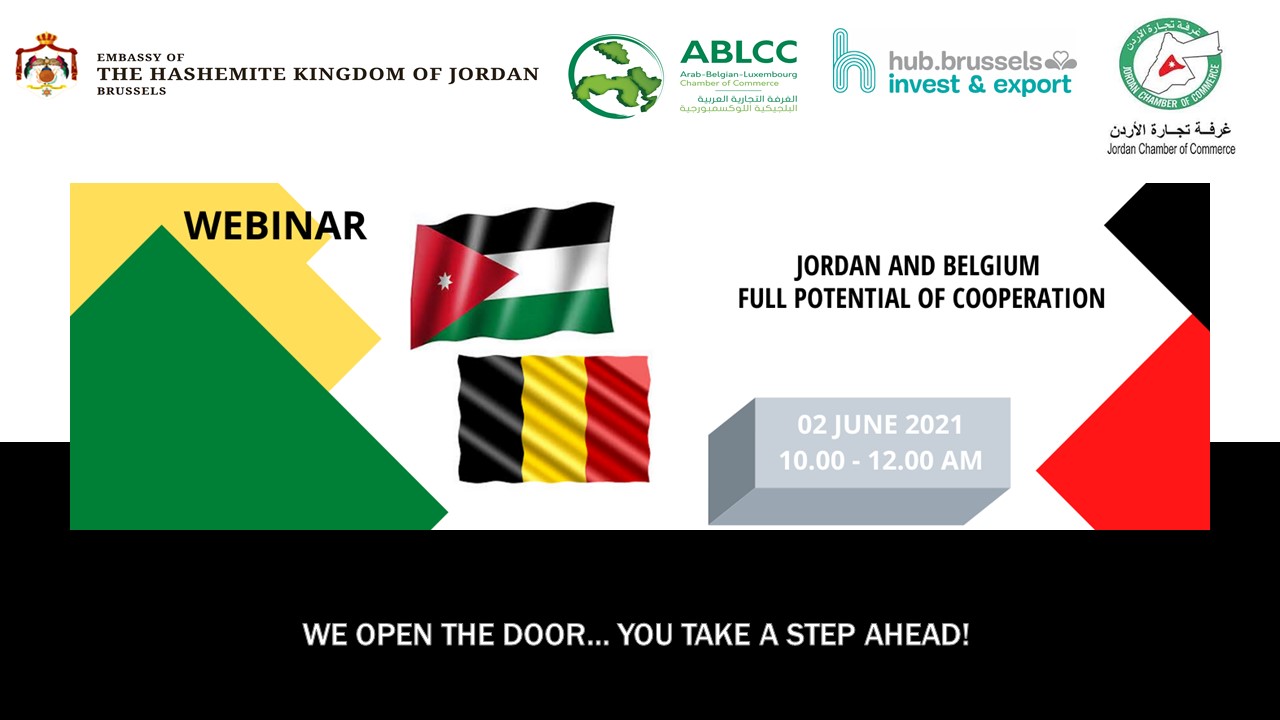 JORDAN AND BELGIUM FULL POTENTIAL OF COOPERATION
The Arab-Belgian-Luxembourg Chamber of Commerce (ABLCC), in close collaboration with Hub.Brussels, and with the support of the Embassy of Jordan in Belgium and Jordan Chamber of Commerce, organized a high-level webinar "Jordan and Belgium full potential of cooperation" on Wednesday 02 June 2021.
With some one hundred registered participants and top-notch keynote speakers, the success of this gathering attests the interest and commitment of both sides to further strengthen their relations.
As a good introduction phase before digging deeper into the subject, the attendees could listen to the inspiring keynote addresses of Belgian and Jordanian guests of honour.
HE Dr. Saja AL-MAJALI, Ambassador of the Hashemite Kingdom of Jordan, underlined the importance of the relations between Jordan and Belgium evidenced by the recent visit to Belgium of His Majesty King Abdullah, in April 2021.
HE Pascal SMET, Secretary of State responsible for European and International Relations, and Foreign Trade | Brussels-Capital Region, referred to the latest Economic Mission to the Hashemite Kingdom of Jordan which took place in 2018 with 18 participating companies. He added that another Economic Mission is in the pipeline for 2022, which will be preceded by a visit to Jordan of HE Smet in November 2021.
HE Nael KABARITI, Chairman of theJordan Chamber Of Commerce and Member of the Jordanian Senate, raised the question of the corona crisis and the current economic damage that ensued; Jordan not being spared. Recalling the positive historical relations between Jordan and Belgium, he then praised an enhanced cooperation between "friendly countries" to curb this crisis.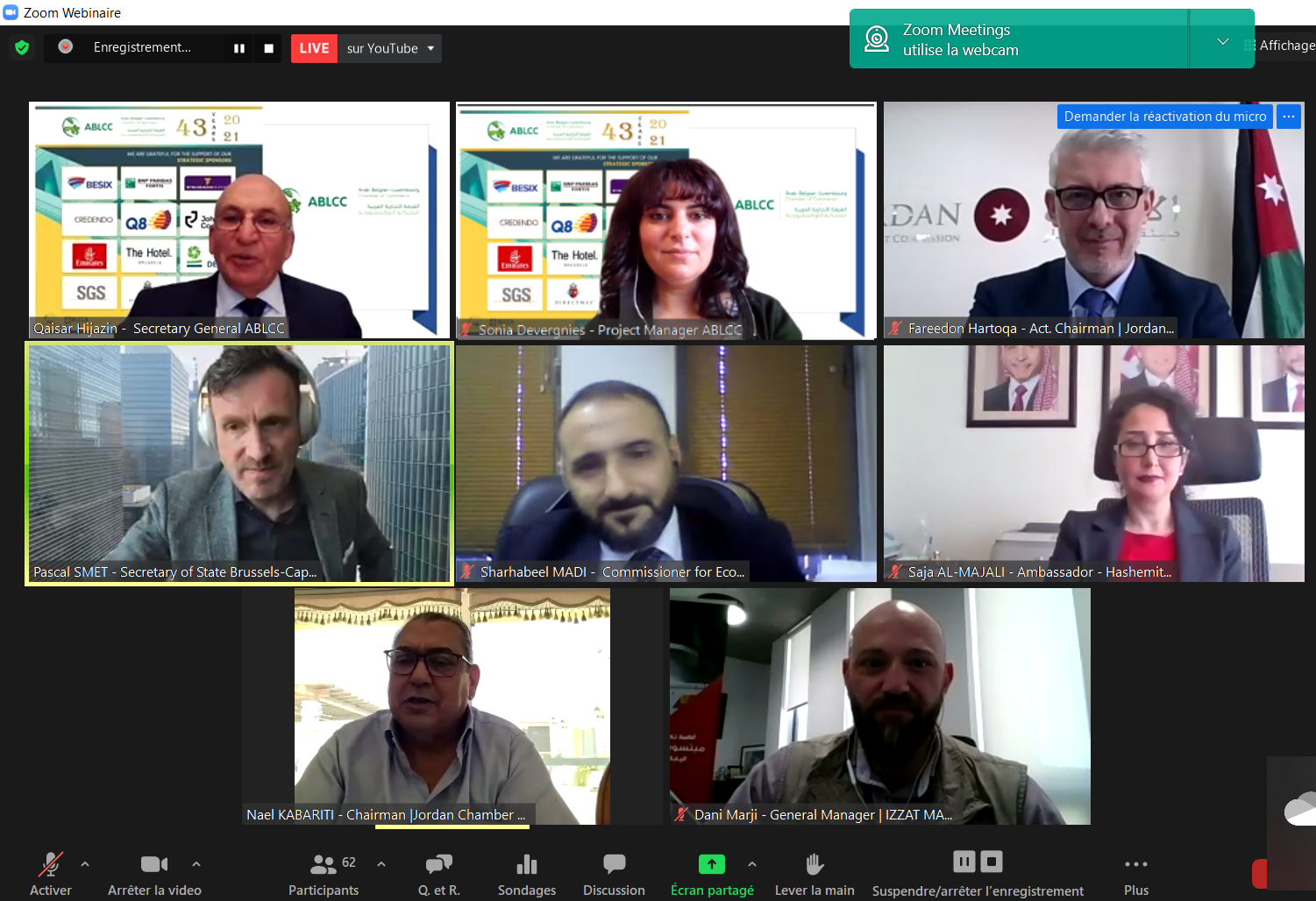 Then, Acting Chairman of the Jordan Investment Commission (JIC), HE Fareedon HARTOUQA reviewed the most important investment opportunities and privileges in Jordan; highlighting the Kingdom's privileged position as a crossroad of trade exchanges at the heart of a consumer market of more than 1.5 billion thanks to several free trade agreements.
We also learned that Jordan's strategic location has been reinforced with sound economic policies and a vision setting some inspiring targets in key sectors designed to strengthen the economy and ensure that Jordan will become a key market in the MENA region.
Mr. Peter MARJI, Director of Investment and promotion at the Aqaba Special Economic Zone Authority (ASEZA), presented the vision of ASEZA. He then reviewed the Business Climate and the breadth of opportunities they offer and gave thought to how they could work closely with Belgian investors for a mutual benefit.
To bring to an end this inspiring gathering, the precious information and know-how about Jordan business environment and various advantages delivered during the various presentations were supported by two Belgo-Jordanian success stories. Mr. Dani MARJI, General Manager | IZZAT MARJI GROUP and Mr. Thierry CARDINAEL, Business Development Manager | TRACTEBEL ENGINEERING shared on-the-ground realities and best practices.
We can conclude that Jordan is a safe haven of opportunities!
The purpose of this gathering has been completely accomplished as the participants gained valuable insights from field experts, learnt from the success stories of Belgian and Jordanian companies, and took home valuable tools and contacts to move forward and successfully position their business on the Jordanian Market.