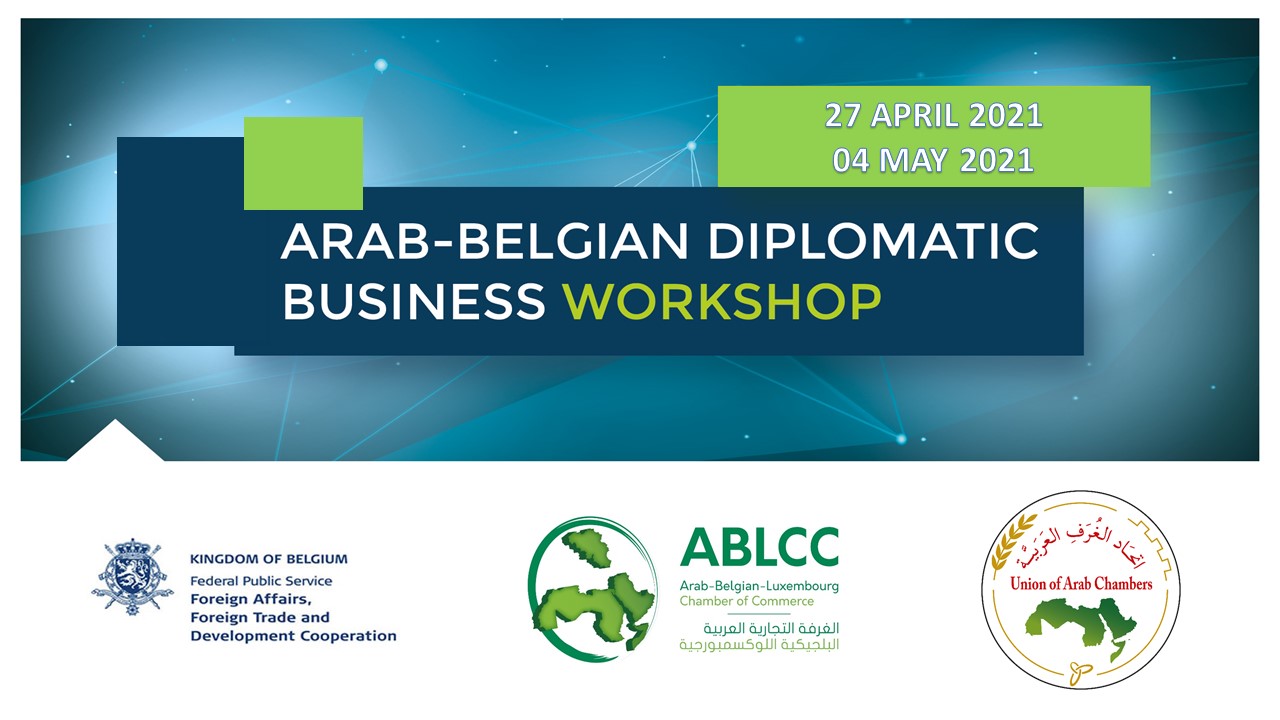 Arab-Belgian Diplomatic Business Workshops | 27 APRIL & 04 MAY
Once again this year, having no desire to break with a fine tradition, the Arab-Belgian Luxembourg Chamber of Commerce was honoured to invite their members and friends to an online edition of their annual Arab-Belgian Diplomatic Business Workshop, organized in the margins of the Belgian Diplomatic days and with the support of the Belgian Ministry of Foreign Affairs.
This event which was organized in two different sessions, on 27 April and 04 May 2021, was thus a unique opportunity for the participants to benefit from the insights of BELGIAN AMBASSADORS accredited in Arab countries during two lively interviews focusing on current topics in Arab Mediterranean countries and the Middle East & GCC.

After a welcome word by Mr. Qaisar Hijazin, Secretary General of the ABLCC, we were pleased to listen to the keynote speech of Mr. Peter Huyghebaert, Director, Middle East & North Africa Department, SPF FOREIGN AFFAIRS, who highlighted that Belgium has " important trade and investment flows with the Arab World with exports amounting to close to 12 billion in 2020 - that is minus 5% but is still reasonable- and imports amounting to 6.5 billion".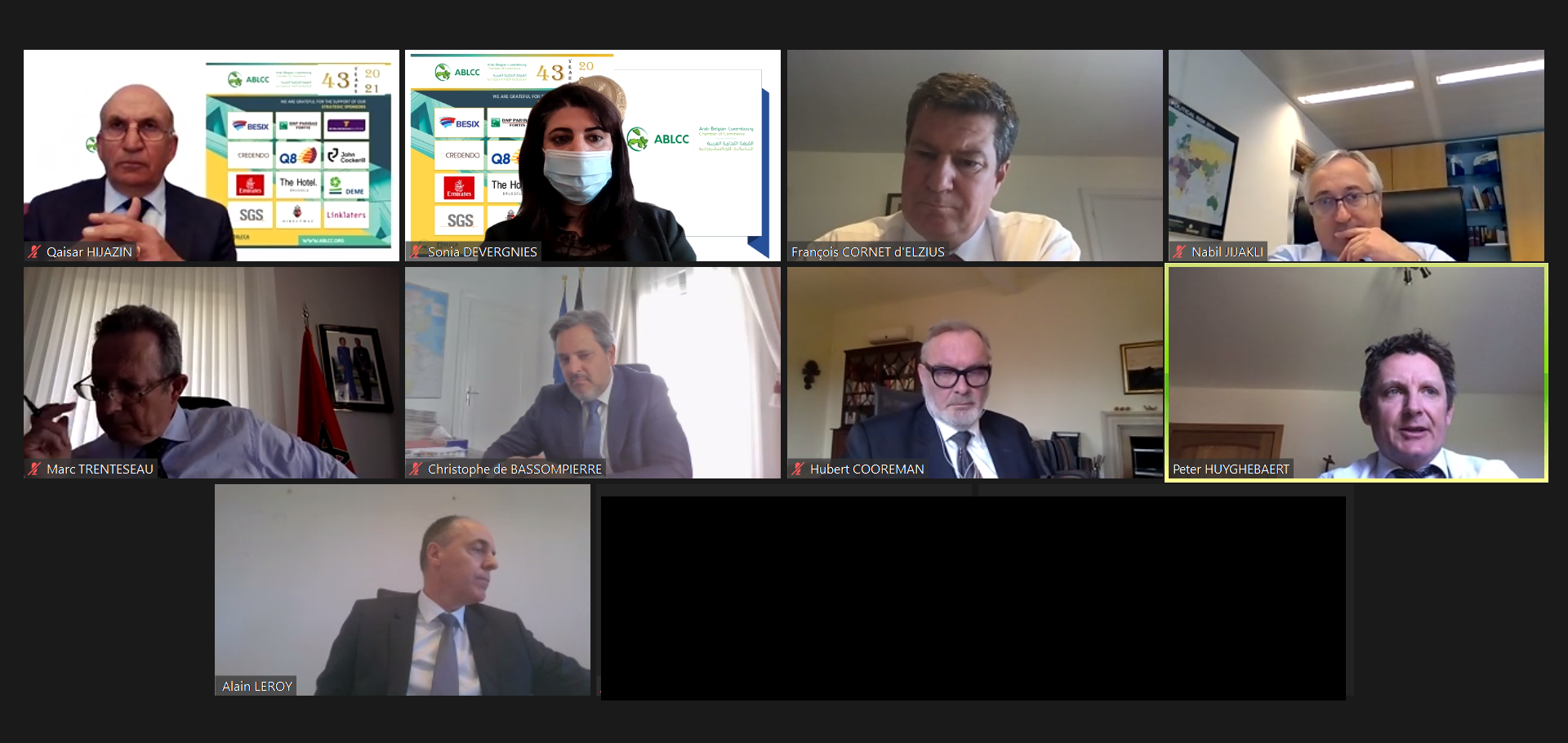 In the first session, which focused on "Arab Mediterranean countries", we had the honour to benefit from the expertise and first-hand experience from:
H.E. Mr. Alain LEROY - Ambassador to Algeria
H.E. Mr. François CORNET d'ELZIUS - Ambassador to Egypt and Sudan
H.E. Mr. Hubert COOREMAN - Ambassador to Lebanon
H.E. Mr. Marc TRENTESEAU - Ambassador to Morocco and Mauritania
H.E. Mr. Christophe de BASSOMPIERRE - Ambassador to Tunisia and Libya
In the second session, which focused on "the Middle East and GCC countries", we had the honour to benefit from the expertise and first-hand experience from:
H.E. Mr. Filip VANDEN BULCKE - Ambassador to Jordan and Iraq
H.E. Ms. Dominique MINEUR - Ambassador to the KSA, Oman and Yemen
H.E. Mr. Leo PEETERS - Ambassador to Kuwait and Bahrain
H.E. Mr. Bart DE GROOF - Ambassador to Qatar
H.E. Mr. Peter CLAES - Ambassador to the UAE
These session were moderated respectively by Mr. Nabil Jijakli, Deputy CEO, Credendo – Export Credit Agency, and Ms. Evelien Staelens | Deputy Director for Trade - Middle East, FIT. Thus contributing to more interaction and allowing for a much deeper and personal experience than in conventional speeches.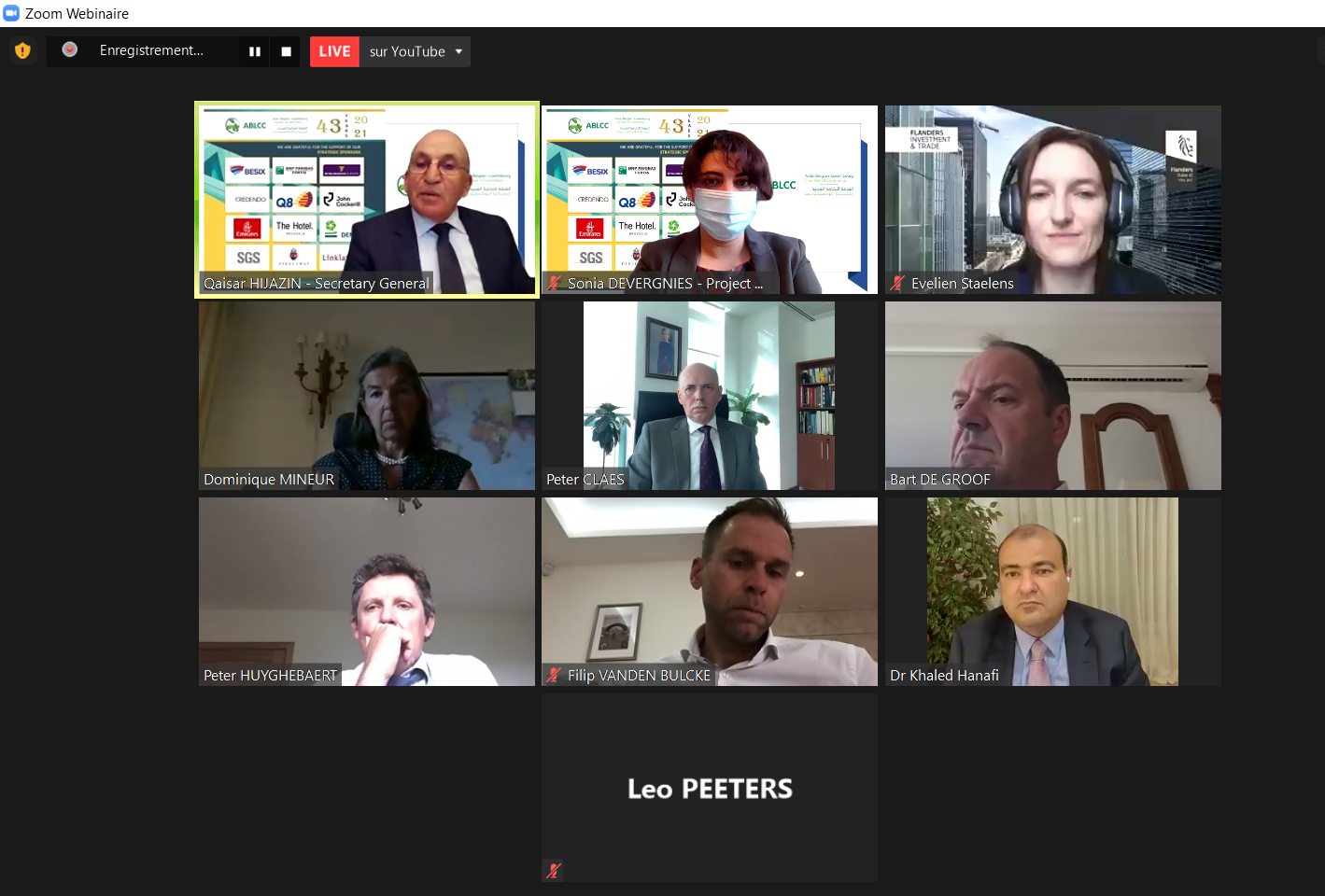 During these two interactive interviews, the Ambassadors answered very specific questions covering current topics of interest such as the impact of COVID-19 pandemic, sustainable economic developments, the various reform/diversification programmes implemented by their country of accreditation, opportunities and challenges for Belgian businesses, promising economic sectors, flagship events, to name but a few.

In his concluding remark, Dr. Khaled Hanafi, Secretary General of the Union of Arab Chambers, noted that Arab countries started to change in many aspects and that accordingly opportunities are great. He added "patterns of business have started to change so I believe it is not wise to keep doing business on the same old way of importing and exporting. We can talk about a strategic alliance between Belgium, in this case, and Arab countries".


The great number of registered participants - more than two hundred for both sessions - shows the importance, the great interest, and the necessity for such an event as a wealth of information and to give an impulse to companies through this difficult and sensitive period.