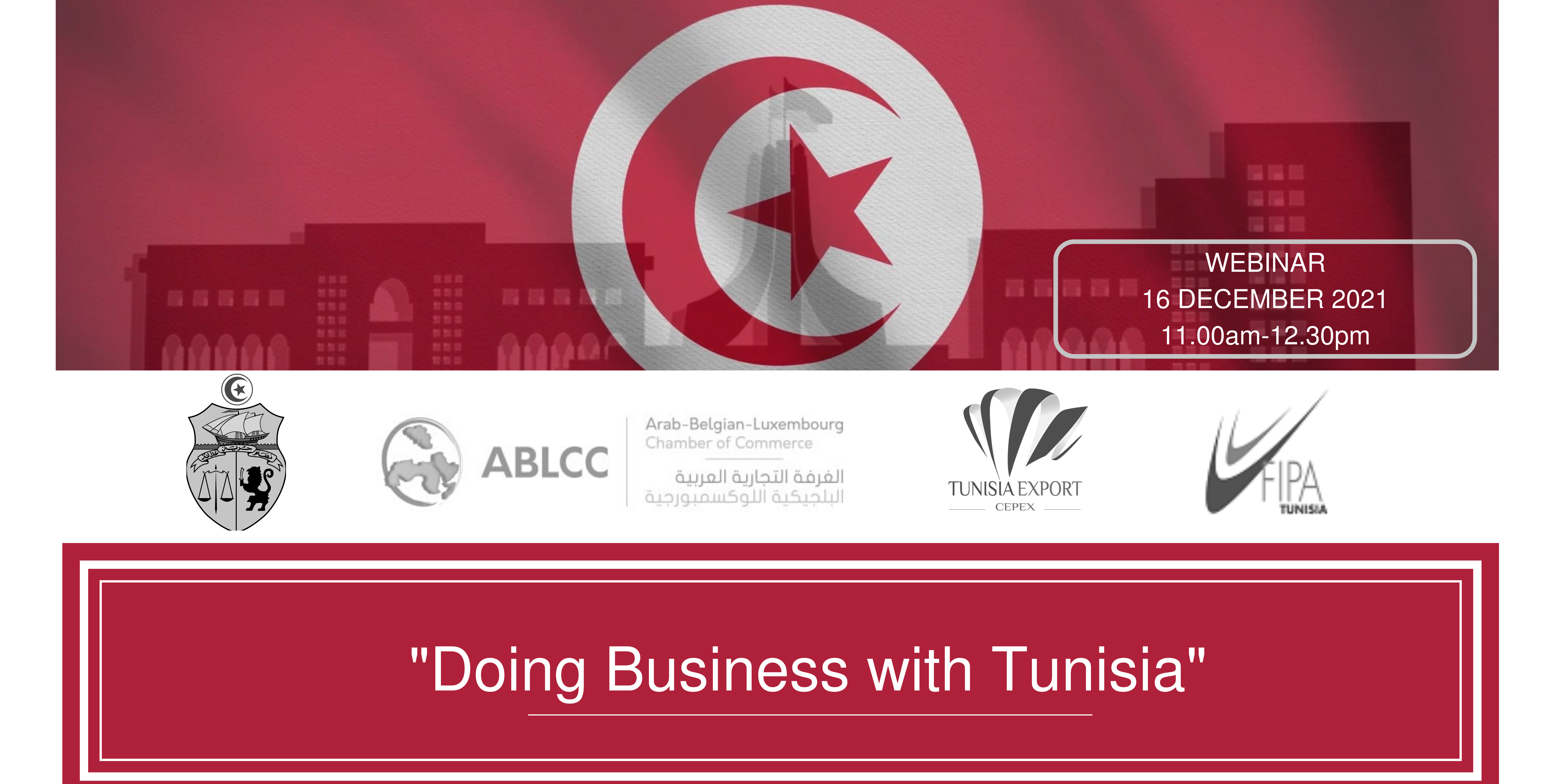 WEBINAR | "Doing Business with Tunisia" | 16 DECEMBER
On 16 December 2021, the Arab-Belgian-Luxembourg Chamber of Commerce (ABLCC), in close collaboration with the Embassy of the Republic of Tunisia held a webinar titled "Doing Business with Tunisia".

This webinar represented a unique opportunity for participants to discover the Tunisian market, export power as well as untapped potential. It enabled more than 60 participants - be they companies, associations, and businessmen – to get to know more about key investment sectors and opportunities in the Republic of Tunisia to ask all specific questions in an ensuing Q&A session.
What is more, this event as well as the great number of participants shows the interest of Belgian and Luxembourg companies in the Tunisian market, which is one of the increasingly diversifying economies opened towards the world.

After a welcome address by the Secretary-General of the Arab Belgian Luxembourg Chamber of Commerce, Mr Qaisar Hijazin, the attendees had the pleasure to listen to the keynotes speeches of the distinguished guests of honour.

H.E. Nabil HAMMAR, Ambassador of Tunisia in Brussels, started by speaking of the qualities of the Tunisian Economy. Noting its resilience, as well as the established networks with neighbouring states.

"Tunisia is to upgrade itself, now more than ever".
H.E. Christophe de BASSOMPIERRE, Ambassador of Belgium in Tunis, spoke of the external impacts on the Tunisian economy leading to a decrease in investments. However, interest and business remained strong throughout. In essence, things are turning around, opportunities exist.


Mr Mounir Mouakhar, President of the Chamber of Commerce and Industry of Tunisia (CCIT), spoke of the different aspects of the Tunisian market and its functioning, resilience and ever-growing human capital.


Mr Abdelbasset GHANMI, Director General, FIPA Tunisia, presented the economic developments affected by Belgian investments. The director-general refuted the negative messaging surrounding the country and its image. Instead, he focused on the rising market power, its consolidating sectors as well as the emerging ones creating distinct opportunities for new investors.


Mr Imed HFAYETH, Director, Center for Export Promotion (CEPEX-Tunisia), presented the import and export data between Tunisia on one hand, and Belgium and Luxembourg on the other respectively. He also provided many useful propositions for the participants to incentivize trade as well as be early explorers of untapped market potential.


Mr Eric DE CLERCQ, Director Africa & Middle East, AWEX, exhibited the ways AWEX can offer support to Walloon investors and importers interested in the Tunisian market. This support comes in various forms, ranging from technical, to legal and leading up to B2B meetings.


Mr Ghislain BREYDEL, Area Manager Middle East & North Africa, Hub.Brussels, introduced Hub.Brussels, as well as its support network in Tunisia and available assistance that they can offer for companies willing to open up in Tunis.


Ms Lise BETJES, Area Manager Africa, Flanders Investments and Trade(FIT), presented FIT's initiatives and support schemes in place to guide and help Flemish enterprises and businesses entering the Tunisian market.


Mr Johnny DE MEIRSMAN, Founder & CEO, Demcointer, gave testimony regarding his own success story in setting up shop in Tunis. He shared his experience, refuted some local myths and gave insightful tips to anyone wanting to operate within Tunis.


Mr Qaisar Hijazin, at this stage, moved to the Q&A part of the webinar, where questions of the participants were answered by the panel, most notably Mr Abdelbasset GHANMI.


We can conclude that Tunisia is an important place to be regarding its strategic position between Middle East, Africa and the UE: Tunisia has everything to become the "Tiger of Mediterreanan" as to know a safe hub for belgian and luxembourg companies to invest.


The purpose of this gathering has been completely accomplished as the participants had the chance to get valuable contacts and tools to engage themselves in Tunisia!