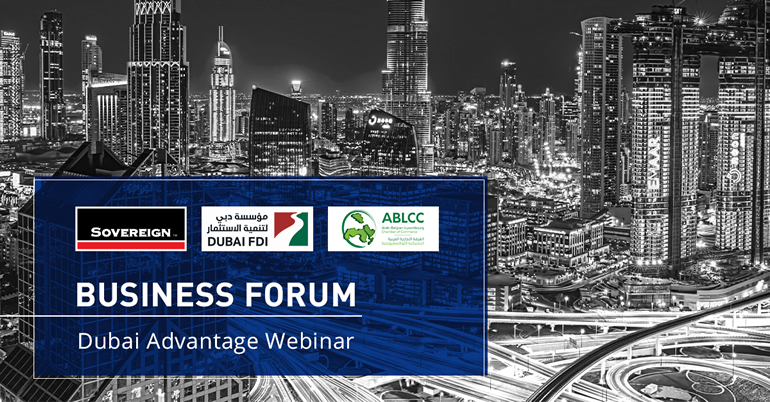 Webinar - Business Forum – Dubai Advantage
The ABLCC closely collaborated with Sovereign and Dubaï FDI in setting up an online Business Forum on business opportunities and market entry strategies in Dubai, on 01 July 2021.

Dubai has transformed its business environment to become the preferred location for global investors and entrepreneurs shaping the future. Dubai's economic ecosystem empowers businesses large and small to maximize profitable growth, forge lasting partnerships, and lead global markets with impactful innovation.
Dubai Government's concerted efforts – including multiple aspects of future-ready governance, development of human capital, increasing connectedness, and fostering innovation – have positioned Dubai as the pre-eminent global location for fast-growth businesses that transcend geographical barriers.


Today, Dubai is the preferred global Foreign Direct Investment destination for more than 70 percent of Fortune 500 companies and new economy entrepreneurs alike. Explore opportunities for growth, partnership, and innovation in Dubai, the city of the future, the gateway to growth markets and the global business hub.

Topics that were covered by our experts:
Doing Business in Dubai, Sector focus on Healthcare and Technology

Overview of the legal landscape of the UAE and recent developments

Brief Overview of UAE VAT Law

Introduction on Economic Substance Regulations (ESR)

Ultimate Beneficial Owner (UBO) Reporting
Welcome speaker - Qaisar Hijazin, ABLCC
Welcome from Qaisar Hijazin, Secretary General, Arab-Belgian-Luxembourg Chamber of Commerce


Qaisar Hijazin is the Secretary General of the Arab-Belgian-Luxembourg Chamber of Commerce (ABLCC), which is an accredited Member of the Union of Arab Chambers since 1978. Thanks to his 42-year experience in promoting trade and economic cooperation between Belgium, Luxembourg and Arab countries, Mr. Qaisar Hijazin has an in-depth knowledge of Arab business climate(s) and culture(s) combined to an extensive experience in advising companies on doing business with Arab countries.
Speaker 1 - Ibrahim AHLI, Dubai FDI
Director Investment Promotion Division, Dubai FDI, the foreign investment promotion agency of the Government of Dubai


As a Director of Investment Promotion Division at Dubai FDI, Dubai FDI, the foreign investment promotion agency in the Department of Economic Development (DED) in Dubai, Ibrahim Ahli assists investors with their service requirements and supports companies looking to set up in Dubai or any of its free zones to serve local, regional and international markets.
Ibrahim steers the investor outreach and promotion efforts of Dubai FDI with his vast experience in attracting international business and supporting them to establish their operations in the United Arab Emirates in general and in Dubai specifically. His main focus in on identifying the best source markets for foreign direct investment (FDI) into Dubai and cementing the emirate's position as the best investment destination in the Middle East.
Speaker 2: Zana Jablan Mousa, Sovereign
LLM, Director, Head of Onshore Team, Sovereign


Zana is a qualified lawyer, with a Master of Laws from the University of London and Masters in European Studies from the University of Bologna and she speaks native Bosnian (Croatian & Serbian), fluent English and conversational Spanish and German.
With over 13 years of business and legal experience, Zana advises both international and domestic corporate and individual clients, with an emphasis on corporate structuring and M&A in the Middle East. Zana further advises on all aspects of business registration and the licensing process, asset protection in the UAE, strategy and operations, the setting up of new structures and labour and immigration processes.
Speaker 3: Arun Gurung
FCCA, Financial Controller – Middle East, Africa & Cyprus, Sovereign
Arun Gurung is an ACCA qualified Accountant, a member of the UAE Accountants and Auditors Association and an MBA graduate. He has more than 12 years' experience in managing finance functions of various conglomerates and multinational companies operating in trading, distribution, consultancy and professional services industries. Arun joined the Sovereign Group's Dubai office in 2015 as Head of Finance for the group's Middle East operations. Along with his team, Arun manages a portfolio of clients ranging from startups to stock-exchange listed companies.
Moderator: Robbert Gorris
Senior Business Development Consultant Northern Europe, Sovereign
Robbert works with client companies to provide them with the market entry experience and strategy that they will need to set up in China successfully. He possesses a comprehensive knowledge of Chinese commerce that has been gained from over 10 years' working closely with SMEs seeking to enter the China market. Before joining Sovereign China, Robbert was General Manager at the Benelux Chamber of Commerce (BenCham) in Beijing, a non-profit organisation representing the interests of companies from Belgium, the Netherlands and Luxembourg in China.