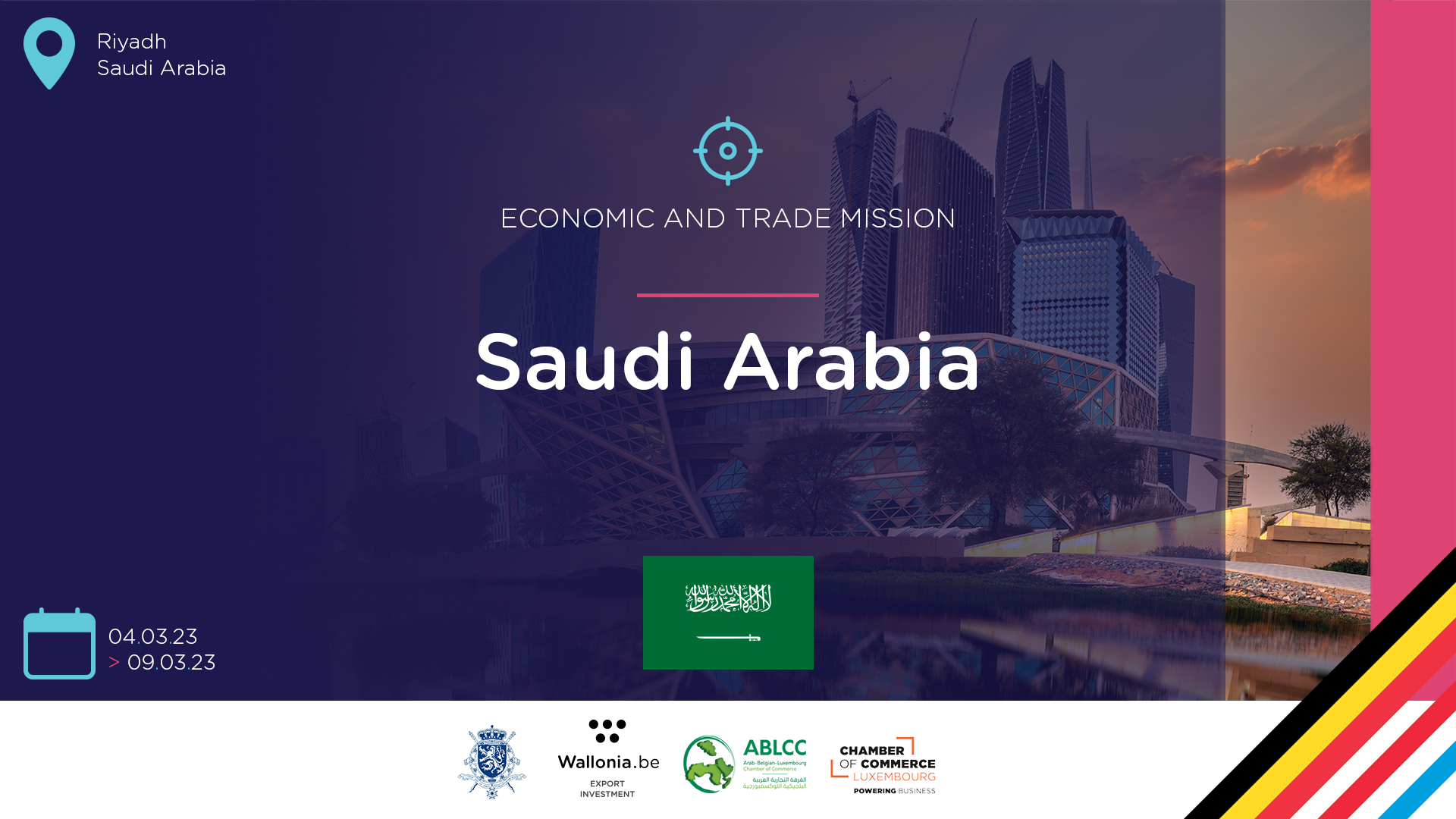 MULTISECTORAL ECONOMIC MISSION - KINGDOM OF SAUDI ARABIA
The Arab-Belgian-Luxembourg Chamber of Commerce (ABLCC), the Walloon Agency for Export and Foreign Investment (AWEX), and the Chamber of Commerce of Luxembourg (CCLU) are pleased to announce their upcoming multisectoral Economic Mission to the Kingdom of Saudi Arabia from 04 to 09 March, 2022 organized with the full support of the Embassy of Belgium in Riyadh.
First economic power of the Middle East, Saudi Arabia is the richest Arab country (1st regional economy and 19th in the world). Taking advantage of a large budget surplus, the country is currently making a giant leap through the digitalization of its public services and the launch of gigantic infrastructure projects such as NEOM/Trojena, the Red Sea Project (Amaala), AlUla, Qiddiya, Soudah Development, Jeddah Central, King Salman Park, Saudi Downtown, to name but a few.
These projects are part of the "Vison 2030" roadmap, which aims to challenge the foundations of the traditional economy to push investment in innovative sectors.
Beginning of March 2022, more then 50 Belgian and Luxembourg companies took part to a particularly buoyant and fruitful first economic mission to the Kingdom of Saudi Arabia which is, without a doubt, the most promising market in the Middle East. This amazingly successful economic mission combined with the ensuing tangible positive outcomes indicate that the Kingdom of Saudi Arabia offers a real potential for Belgian and Luxembourg SMEs.
This will therefore be an opportunity for participating companies -
starting to make contacts, or willing to reinforce the contacts they may already have established in 2022 -
to seize the exceptional opportunities offered by the "Vision 2030" roadmap while benefiting from the network, expertise and logistical organization of AWEX, the ABLCC and CCLUX.
In order to take full advantage of the potential represented by this market, this second edition of the economic mission to KSA will focus exclusively on the following sectors:
- Health
- Environment / Energy
- Sports / Entertainment
- Construction / Infrastructure
Since most of the decision-making centers are based in the capital, the program of the mission will take place exclusively in the city of Riyadh. On Monday and Tuesday, visits to the sites of different gigaprojects (Soudah Development, Red Sea – Amaala, AlUla, or even Qiddiya) can be organized for interested companies.
These site visits will be organized in collaboration with our local partners.